We have introduce Edward De Bono's 'Thnking Hats' and David Hyerle's 'Thinking Maps' at Maesglas Primary School. 
Thinking Hats
'Thinking Hats' provides a structure, enabling our children to organise their 'thinking'. We primarily use 'Thinking Hats' to reflect critically on our learning. They are an integral feature of our 'self-assessment' policy. The children are introduced to the 'hats' is a progressive and consistent way across the school. Each classroom has a 'Thinking Hats' display. The displays around the school promote this consistent language for learning aligned to the 'characteristics of the 'hats'.
"Creativity involves breaking out of established patterns in order to look at things in  different ways."Edward de Bono
In 1985 Dr. Edward de Bono developed the "Six Thinking Hats" tool, an important and powerful technique.  Six Thinking Hats is a simple, effective parallel thinking process, that helps people be more productive, focused and mindfully involved.
Each of the 'Thinking Hats' represents a particular mindset. See below: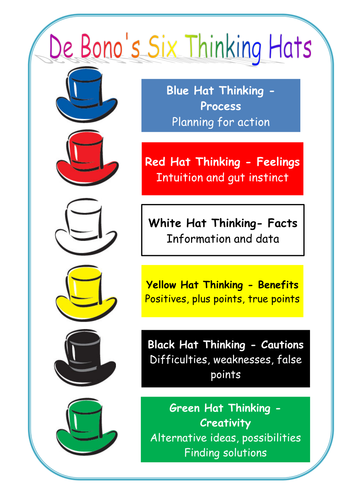 Thinking Maps
'Thinking Maps, developed by Dr. David Hyerle, are visual teaching tools that foster and encourage lifelong learning. 
Based on thorough and well-accepted academic study and brain research, the eight Thinking Map tools correspond with eight fundamental thinking processes'.
At Maesglas Primary School the children are introduced to the 'Thinking Maps' in a consistent and progressive way across the school. The 'Maps' enable the children to organise their thinking in a structured way. Each class has a 'Thinking Maps' display. 
Each of the eight 'Thinking Maps' are identified below: